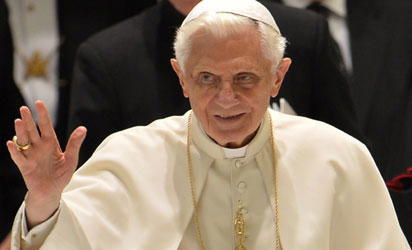 Bishop Valerian Okeke of Onitsha province paid tribute to the late Pope Benedict on Saturday.
Bishop Okeke's tribute was delivered by Father George Adimiki. It read thus:
"The news of the passing of our beloved Pope Emeritus, Benedict XVI, came with a mixture of sadness and joy. It came with a deep pain of losing such a great treasure of the Church and humanity in general. Yet the news fills one with a certain sense of peace and tranquility as the passing to glory of this holy, humble, exceedingly intelligent and humble servant of God who devotes his time, talent and intellectual treasure to serve God and His Church without to reserve.
"He was a man of deep faith, of legendary intellectual prowess and childlike tenderness. He taught and lived the authentic Catholic faith through his preaching, lectures, writings and public appearances. With the gift of longevity, he devotedly acted as a bulwark protecting the Catholic faith he had received from the apostles.
"I cherish the memories of all my encounters with him and wish him a safe journey and eternal rest in the bosom of the Father. Together with my Auxiliary Bishop, the clergy, religious and lay faithful of the Catholic Archdiocese of Onitsha, I assure the Holy Father of our prayers.
Rest in peace, Emeritus Pope Benedict XVI.
"Consecrated yours in Christ,
"Reverend Valerian Okeke
Archbishop of Onitsha and Metropolitan of the Ecclesiastical Province of Onitsha
The post Bishop Okeke Pays Tribute to Pope Emeritus Benedict XVI appeared first on Vanguard News.