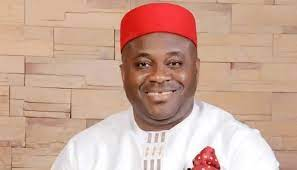 By Harris Emanuel, Uyo
Young Progressives Party (YPP) gubernatorial candidate Senator Bassey Albert Akpan has thanked God and the people of Akwa Ibom State for standing by him through his recent trials, stating that he holds no grudge against anyone about what he described as "that sad and despicable act".
In a New Year's message titled, "2023: Our Rebirth is Nigh," the Senator representing Akwa Ibom North East, popularly known as OBA, pledged to lead a comprehensive government "where everyone across the state's 31 Local Government Areas shall have equal opportunity to participate in and contribute to the welfare of the state," if elected the next governor.
The message is the first official statement since he was released on bail by the Port Harcourt Court of Appeals, the Rivers State capital of the Ikot Ekpene Correctional Center.
Federal legislator was sentenced to 42 years in prison for corrupt practices on December 2, 2022 by a Federal Supreme Court presided over by Judge Agatha 42Okereke
The statement reads: "Great compatriots, may I, on behalf of my dear wife, Pastor (Mrs.) Imaobong Nkeiru Bassey Albert and family, convey our warmest New Year's prayers to all Akwa Ibomites; members of Young Progressives Party (YPP), Akwa Ibom State chapter; members of the Akwa Ubok Abasi campaign movement; voters of Akwa Ibom North East Senatorial District; the good people of Akwa Ibom State and indeed friends and well-wishers beyond the borders.
"This New Year's message to all of you is filled with joy and immeasurable gratitude to Almighty God – the Almighty, Omnipresent and Omniscient, for granting you great assistance to get through the year 2022, despite the ferocious challenges we faced. Personally, God has filled my mouth with praises for making "His word a lamp to my feet and a light to my path" (Psalm 119:105) during the 28 days of unjust incarceration at Ikot Ekpene Correctional Center, before I was granted bail by the Federal Supreme Court in Port Harcourt, Rivers State.
"May I therefore take this opportunity to thank the wonderful people of Akwa Ibom State and indeed other well-meaning Nigerians – men, women, youth and children who prayed unceasingly and tirelessly for God's divine intervention and who in their unquantifiable numbers the Ikot thronged Ekpene Correctional Center on Thursday, December 29, 2022, while others lined the routes to Uyo and gathered at the Senator Bassey Albert Multi-purpose Recreational Center, Ifa Ikot Akpan, along Airport Way, to welcome me upon my release. That massive reception will forever remain unforgettable and indelible in our hearts.
"In light of the above, I wish to state that we hold no grudge against anyone over this sad and despicable act. Rather, we see the episode as a turning point in the journey to give Akwa Ibom State its necessary rebirth – in all its ramifications. At this point we would like to echo the words of Ralph Waldo Emerson: "Our greatest glory is not never to fail, but to rise every time we fail." Like other great leaders who have experienced such trials, we consider it a necessary price to pay for the emancipation of our people.
"Let me remind that at the flagging out of my gubernatorial campaign on October 22, 2022, I proclaimed our blueprint in my speech titled "My Covenant with Akwa Ibom People." We have set out how our mandate, which will be anchored on the 3Rs, namely; to restore Akwa Ibom; to truly reconcile Akwa Ibom to God, and to reposition Akwa Ibom for imminent greatness, will work. We have based our economic blueprint on five strategic pillars, namely: 1. Agriculture and rural development; 2. Education, health care and social services; 3. Economic prosperity and infrastructure; 4. Safety, Environment and Tourism; and 5. Administrative reform and project completion. We therefore reiterate that our ingeniously designed policy remains the best for Akwa Ibom State. We will track their implementation holistically.
"Therefore, as we enter the year 2023, we must be fully aware and prepared that the election year we have all been longing for has finally arrived! The elections in February and March provide us with all decisive moments to change the course of our history by voting for me as Governor of Akwa Ibom State as well as for all Young Progressives Party (YPP) candidates. Let's take it as our time to rise and shine. We must not hesitate, no matter how much financial temptation, intimidation and false promises. If a regime cannot prove its worth in 8 years, it has no legal standing to seek a renewal of mandate through a surrogate.
"The state of Akwa Ibom cannot continue in the way we have collectively seen and experienced dire economic hardship, hardship and political oppression since 2015. Let's sustain our faith with constant prayers, knowing that our mission is anchored in Almighty God who gives strength to whomever He wills, as He has repeatedly assured us that I am the Chosen One.
"Our administration will emphatically be the Akwa Ibom project, where everyone across the 31 local government areas of the state will have equal opportunities to participate and contribute to the well-being of the state.
"Under the coming YPP administration in Akwa Ibom State, with me as your chief servant, we will surely restore the state and bring sunshine to all regardless of class or tribe.
"In this spirit, be prepared to vote YPP for a better Akwa Ibom. May the SAME GOD who has secured our transition from 2022 to 2023 grant us success throughout the New Year. Together we will witness the Akwa Ibom state of our dreams, where prosperity will be for all.
"Before I finish, I would like to especially thank my dear wife, Pastor Mrs. Imaobong Nkeiru Bassey Albert; the president of the Akwa Ubok Abasi campaign movement; Sir Emem Akpabio; the president of YPP, Apostle (Dr.) Nyeneime Andy; the director general of the Akwa Ubok Abasi campaign movement; Pastor Sunny Ibuot and the entire leadership, members and supporters for standing firm in my absence. May Almighty God bless you all for the determination and persevering support.
"Let me welcome all Akwabomites to our year of Divine Possibilities 2023. God bless us all. Happy New!"
Prison after 42 years: I don't hold a grudge against anyone – Sen Akpan first appeared on Vanguard News.