Luiz Inacio Lula da Silva will be inaugurated for a third term as Brazil's president on Sunday, in a ceremony disapproved of outgoing leader Jair Bolsonaro, underlining the deep divisions the veteran leftist inherits.
The swearing-in will mark a remarkable political comeback for 77-year-old Lula, who returns to the presidential palace in Brasilia less than five years after being jailed on controversial corruption charges that have since been overturned.
In a sign of the scars left over from Lula's ruthless election clash with far-right ex-army captain Bolsonaro in October, security will be exceptionally tight at the lavish ceremony in the capital.
About 8,000 police officers — including more than 1,000 federal agents, a record deployment for a presidential inauguration in Brazil — will provide security,
The tightened measures come after a Bolsonaro supporter was arrested last week for planting a tanker full of explosives near Brasilia's airport, a plot he says was designed to "cause chaos" in the South American country.
Bolsonaro himself left Brazil for the US state of Florida on Friday – reportedly to avoid handing over the presidential sash to his bitter enemy, as tradition dictates.
The disapproval has barely dampened the revelry for Lula and the 300,000 people expected to attend the ceremony and huge concert featuring acts ranging from samba legend Martinho da Vila to drag queen Pabllo Vittar.
Thousands of Lula supporters have flooded the capital, traveling by plane, car and even bicycle to camp near the Esplanade of Ministries.
Foreign dignitaries, including 17 heads of state, will also be in attendance as Lula, who previously led the country through a watershed from 2003 to 2010, takes the oath of office for another four-year term at 3:00 pm (1800 GMT). .
Among them are the presidents of a series of Latin American countries, Germany, Portugal and the King of Spain.
After being sworn into Congress, Lula will travel by car — traditionally a black convertible Rolls Royce, though officials said this could be changed for security reasons — to the capital's state-of-the-art presidential palace, the Planalto.
There he will walk up a ramp to the entrance and receive the gold and diamond embroidered presidential sash.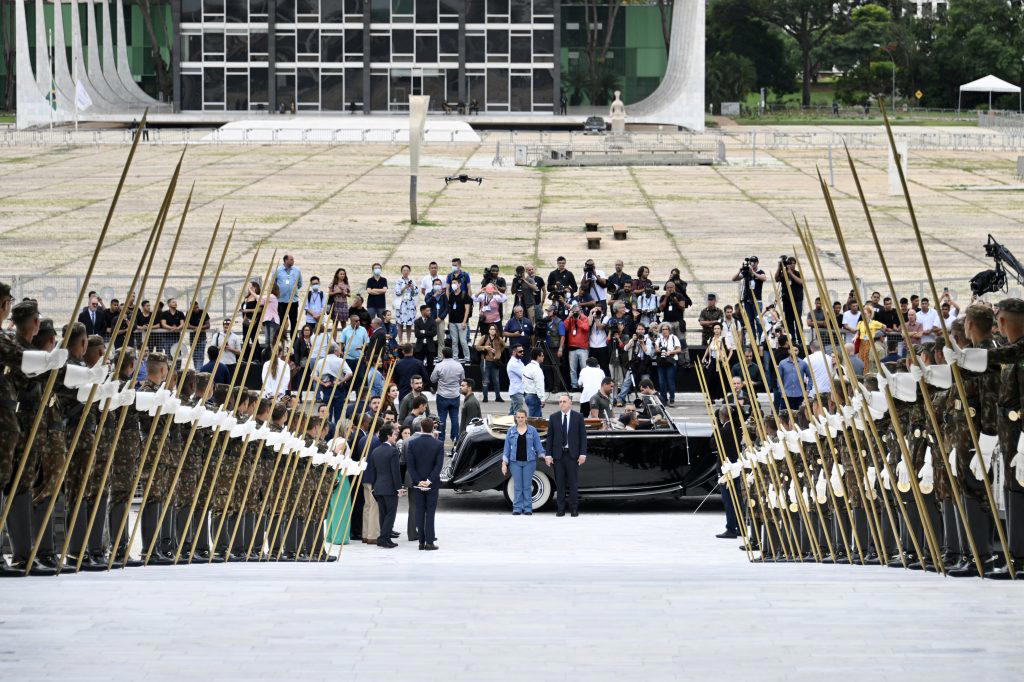 The organizers of the ceremony — led by first lady-to-be Rosangela "Janja" da Silva — have kept a mystery over who will give Lula the sash in Bolsonaro's absence.
It will be the first time since the end of Brazil's 1965-1985 military dictatorship that an incoming president will not receive his predecessor's yellow-green sash.
– Press To-do list –
Lula faces numerous pressing challenges for Latin America's largest economy, which bears little resemblance to the resource-driven dynamo he spearheaded in the 2000s.
They include restarting economic growth, halting the rampant destruction of the Amazon rainforest, and executing its ambitious poverty and inequality reduction agenda.
An estimated 30 million of Brazil's 215 million people are starving and the economy is still struggling to recover from the coronavirus pandemic.
Vice President-elect Geraldo Alckmin described the incoming government's task as "huge".
Lula faces a congress dominated by Bolsonaro's conservative allies.
He has also been pursued by far-right hardliners who have gathered outside army bases to call for military intervention to keep him from power since he narrowly won the October 30 runoff, 50.9 percent to 49.1 percent.
"He will have to act assertively in his first 100 days to show where Lula Part Three is going," says political scientist Leandro Consentino of the Insper Institute in Sao Paulo.
"His election victory was very narrow, and he will have to face a divided country and a fighting opposition. He will have to lead a government of national unity and restore peace."
Markets, meanwhile, are nervously watching how Lula will finance its promised social spending given Brazil's overstretched government finances.
"Our priority will be to take care of the poorest, the most deprived, working people," Lula said recently.
The post Lula returns for third term as President of Brazil appeared first on Vanguard News.