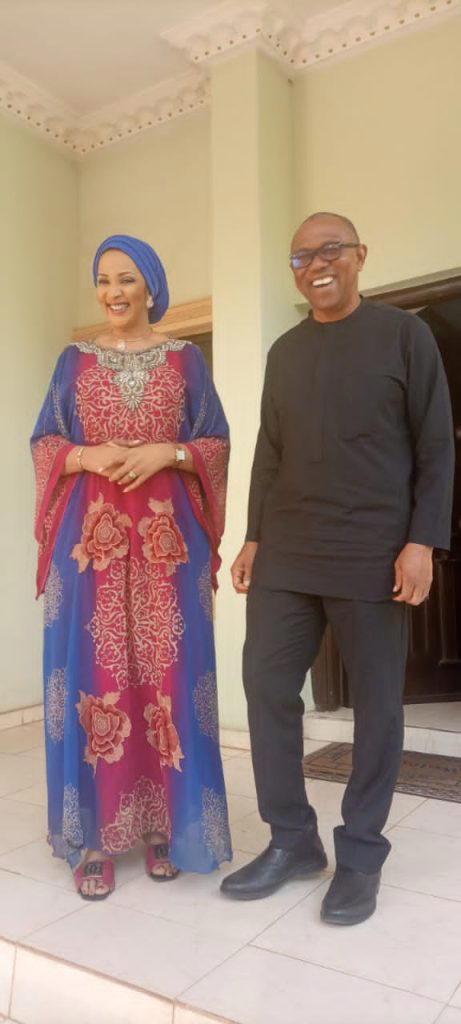 By Dennis Agbo
Wife of the late Igbo chief, Amb. Bianca Ojukwu has revealed that, among other achievements of Labor Party presidential candidate Mr Peter Obi as Governor of Anambra State, he has put an end to the issue of godfatherhood in the state.
Ms. Ojukwu spoke just as Chief Chris Ubah of the People's Democratic Party, PDP claimed that he had made many governors in Anambra state but could not add Obi's name as one of the governors he had made in the state as a godfather .
On receiving Obi at Ojukwu's Enugu home on Friday, during a consultation visit with the family of the late Igbo leader, Dim Chukwuemeka Odumegwu-Ojukwu as part of his ongoing nationwide consultation, Bianca Ojukwu said the Labor presidential candidate was one of the most progressive politicians. today in Nigeria.
"Where we are heading is a very defining and decisive moment in Nigeria's political history. We're seeing momentum like we've never seen before. And we see a Nigerian of Igbo descent who has penetrated the socio-cultural, political landscape like a hurricane. Of course, Mr. Peter Obi, we know that he has been governor for two terms in the history of Anambra State.
"We also know that he did something very important in Anambra State, which was to bring the era of godfatherhood in Anambra State to a definitive end. Of course, when faced with one of the most progressive politicians Nigeria has ever had, I can only wish him the very best in this endeavor. It is not an easy task for him to have achieved what he has achieved; the level of acceptance, recognition almost like a revolution Nigeria has never seen in its history.
"Ultimately, every Nigerian needs a responsive government. A government that has an affinity with the masses. A leader people can trust. So I think many of us are looking forward to this election because it will determine whether Nigerians are really sincere about the change they so desperately need," Ojukwu said.
Earlier, when addressing a member of the Ojukwu family, Obi said it was important to him to visit each leader for their blessing and support.
"First of all, I am a member of this family and in order to do anything, especially as I am now going around, it is necessary that I must come and meet my leader. Because you know, without the leader being here today, she (Bianca) is the leader for me. I need to be able to discuss and say, this is what I do and that is necessary. For me, the most important thing is to go around, be it a political leader or a church leader. You tell them for their blessings. I'm in a war, I'm in a field, I need everyone's blessing.
"You need everyone to understand you, to clarify what you are doing to them and to be able to say: I came here for this purpose and that is why I am here to see her and tell her that this is what I do and i know with her own approval and support comes approval from Ezeigbo everywhere he prays for us i have met most of the igbo chiefs and i am their son so when you see your son in a fight you see what he does and brave you are up to his efforts. But I've met most of them. I consult with all of them," Obi said.
The post Obi Ended Godfatherhood In Anambra – Bianca Ojukwu appeared first on Vanguard News.