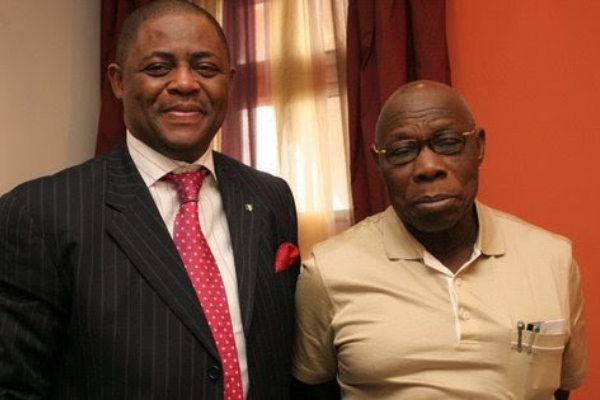 By Idowu Bankole
Femi Fani-Kayode, former aviation minister, has commented on the endorsement of the Labor Party's Peter Obi by his former boss, Chief Olusegun Obasanjo, describing the move as the former president's biggest mistake.
Obasanjo had endorsed Peter Obi in a four-page letter telling Nigerian youth that the emi lokan leadership attitude is a bad mindset for the country.
The ex-Nigerian leader also warned Nigerian youth what to look out for in a leader they want to hoist upon themselves in the upcoming election, describing the current situation in the country as a "frying pan to fire".
But in an essay to Vanguard entitled WHAT HAVE THEY DONE OUR BABA?, the former aide to ex-President Obasanjo said endorsing Peter Obi is Chief Obasanjo's biggest mistake.
Fani-Kayode praised Tinubu's antecedents in Lagos, saying the APC presidential candidate has built more churches and employed other ethnic groups than any governor in the country's history.
He said: "Frankly, it pains me to read what people are saying and writing about him since his last letter, for I remain one of his most loyal and loving sons and I am very fond of him."
Read also
'Emi Lokan' is wrong attitude, leadership mentality for Nigeria – Obasanjo
"Yet a loyal and loving son owes his father, if nothing else, one thing and one thing alone: ​​the bitter truth.
And that bitter truth is that his endorsement of Peter Obi is the biggest mistake he's made since entering politics in 1999 and it's nothing but an exercise in futility.
"Not only will Obi lose miserably and maybe be pushed to fourth place, but he could lose his deposit and a lot more".
Obasanjo's endorsement of Peter Obi follows political tensions in his former political party, the PDP, where G5 governors are at odds with Obasanjo's former vice president, in 1999, Atiku Abubakar, who is now vying for president.
Political observers have described the outcome of February's general election as likely to determine the trajectory of the future of the country's social economy.
The post Peter Obi's Approval Is Obasanjo's Biggest Mistake Says Fani-Kayode appeared first on Vanguard News.