.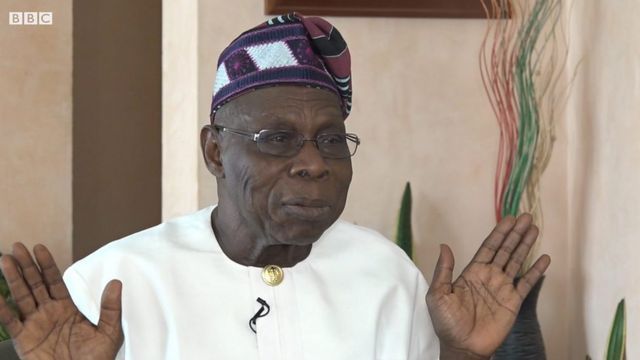 By Olasunkanmi Akoni
Nigerian youths who gathered in large numbers in Abeokuta, Ogun State, have described the endorsement of Labor Party presidential candidate Peter Obi by former President Olusegun Obasanjo as personal. election.
Seyi Bamigbade, national director general of the APC Professionals Council, said at the National Youth Summit that democracy in Nigeria has passed the stage where one person single-handedly determines who becomes the leader, saying the former president cannot play god .
While stating that Obasanjo's endorsement of Obi will not affect the margin of victory of APC presidential candidate, Bola Tinubu, who he believes will land a landslide victory at the polls next month.
Read also
Peter Obi: Obasanjo wants to impose Adolf Hitler on Nigerians – Fani-Kayode
Bamigbade accused the former of expressing frustration at his inability to control the current government.
According to Bamigbade, "The most important thing is the acceptance among the Nigerian people, which Asiwaju Bola Tinubu enjoys among the Nigerian young population, as evident in the gargantuan crowd besieging the party's rallies in the states."
"As young people, you should not be distracted by the antics of a former president who is merely exercising his political rights. You know in whose hand your future is better protected and assured, you know the candidate who has made the development and welfare of young people a top agenda from his days as governor in Lagos.
"Don't fall for that distraction, don't be fooled by attitudes far below that of a statesman, but keep your eyes on the ball, focused on taking a strategic action aimed at securing your future.
"Our great party, the APC, has an enviable track record of excellence that President Muhammadu Buhari had deeply entrenched, a legacy that the new president, Asiwaju, will carry on."
Previously, the National President of Concerned Youths Electoral Credibility, CYEC, Engr. Paul Chinonso said that "the former president's action falls short of a statesman," insisting that they will vote for APC presidential candidate Tinubu in next month's presidential election.
Chinonso said "Obasanjo has no right to decide for Nigerians which way to vote in choosing their leader," and accused the former president of presiding over the debauchery and corruption that crippled the country during his days as president made.
He said that Obasanjo and his vice at the time, Atiku Abubakar, sold all national assets in a questionable and corrupt manner in the name of privatization.
"As a reminder, Obasanjo spent $3.7 billion to provide electricity and there was no sign of it. Atiku confirmed that the money was nowhere to be found.
"The same Obasanjo and the other dying party candidate Atiku Abubakar brought Global Steel for Ajaokuta steel in 2005. The investors went to court asking for $5 billion and Buhari paid $496 million to reclaim our legacy. Today, Ajaokuta steel has come to life again, an indelible legacy of APC," said Chinonso.
Vanguard News Nigeria
The post Youth to Obasanjo: You Can't Tell Us Who to Vote for in 2023 appeared first on Vanguard News.