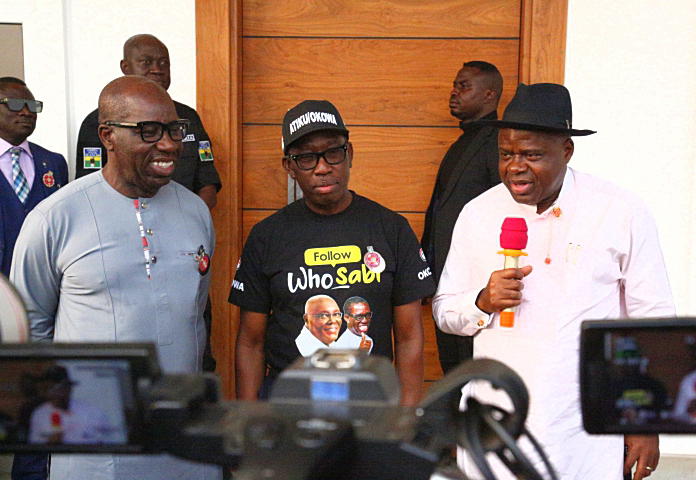 Delta Governor and PDP Vice Presidential Candidate, Senator Dr. Ifeanyi Okowa (left); his wife, Dame Edith Okowa (2nd right) with Edo Governor Mr. Godwin Obaseki (right) and his wife, Betsy (2nd left) shortly after a meeting of the two governors and their Bayelsa counterpart in Owa-Alero, Ika North East on Tuesday.
Bayelsa Governor Douye Diri and his Edo counterpart Godwin Obaseki on Tuesday called on G5 governors from the People's Democratic Party (PDP) to join hands with the party in its rescue mission to rebuild the country.
The governors called in an interview with journalists shortly after a courtesy call to PDP vice presidential candidate and Delta governor, Senator (Dr.) Ifeanyi Okowa, at his home in Owa-Alero, Ika North-East Area of ​​the stands.
According to them, the PDP has not ruled out talks with the G5 governors because we want a strong and united party that will revive the hopes of Nigerians.
They said their brother governors in the G5 should be part of their party and work with every other person in the party to ensure a landslide victory for the PDP in the general election.
"We want a united PDP and when we meet we are always focused on the unity of the party and do not exclude speaking with our brothers. We also talked about this today.
"We still call on our brothers to be part of their own party and to cooperate with everyone. So we don't rule anything out.
"We still want our fellow governors so we can visit them as we visited our colleague here in Delta, who by God's grace will become the next vice president of this country," they said.
They announced that they were at the mansion of the PDP vice presidential candidate to congratulate him and wish him good news for the new year.
"We are here to visit our brother and by the grace of God the incoming vice president of the country to wish him good news, wish him well for the new year and pray that Almighty God will fulfill our dreams come true this New Year," they said.
Earlier in an interview with journalists, the PDP's Delta North Senate candidate, Prince Ned Nwoko, ordered the G5 governors to sheath their swords and join hands to advance the party's electoral fortunes in the general election of this year, even if he expressed his optimism. that the PDP will emerge victorious.
The post Let's Join Hands To Rebuild Nigeria, Diri, Obaseki Urges G5 Governors appeared first on Vanguard News.