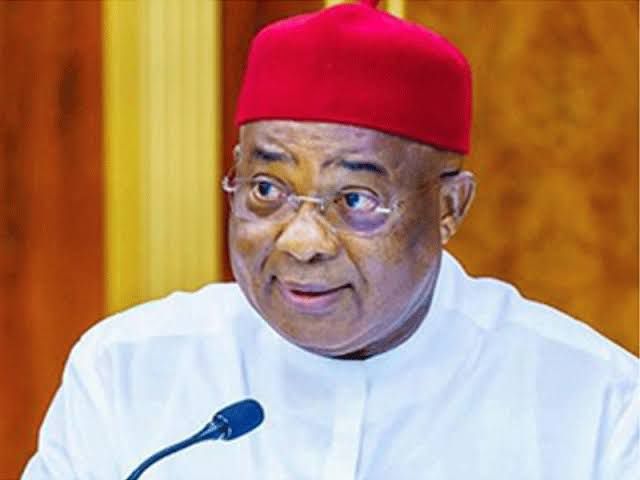 Imo State Governor Hope Uzodimma said Niger's second bridge, carried out by the government of President Muhammadu Buhari, is enough for the Igbo people of the southeastern geopolitical zone to vote for the All Progressives Congress presidential candidate, APC, Asiwaju Bola Tinubu in 2023 .
Uzodimma made the claim Thursday during an interview on Channels Television's Politics Today.
Also Read: Obi: Obasanjo, Clark's endorsement, a blessing in disguise for Tinubu — APC
He said: "Senator Bola Tinubu is the presidential candidate of the APC, the party in power. From 1970, when the civil war ended, the Igbos demanded the Second Niger Bridge, and government after government made promises that were not kept.
"Last Christmas was greeted with cheers; Igbos coming from outside the Southeast via the Second Niger Bridge. That's even enough for the entire Igbos to vote to continue Buhari's legacy.
Uzodimma, who is the coordinator for Tinubu's campaign in the southeast, also said that most federal roads in the zone have received adequate attention and budgetary commission and commuters are no longer suffering as before.
"It's not about whether Bola Tinubu is from the same place with me; it is about the programs, insofar as our great party's manifesto has convinced and endeared the people. I am confident that the party to beat in Nigeria is the APC," he said.
Uzodimma also said that he is running a united campaign for all APC candidates in the Southeast, expressing confidence that all the party's candidates, from the governorship, House of Representatives, House of Representatives to Senate seats, will be chosen.
The federal government temporarily opened the bridge to traffic on December 15, 2022 to facilitate the experience of travelers during the Christmas holidays pending the final completion of the project.
The 1.6-kilometer bridge connects the states of Anambra and Delta.
The Second Niger Bridge was first proposed during the 1978/79 political campaign by then National Party of Nigeria (NPN) candidate Shehu Shagari.
The post 2023: Second Niger Bridge Enough for Southeast to Vote Tinubu – Uzodimma appeared first on Vanguard News.