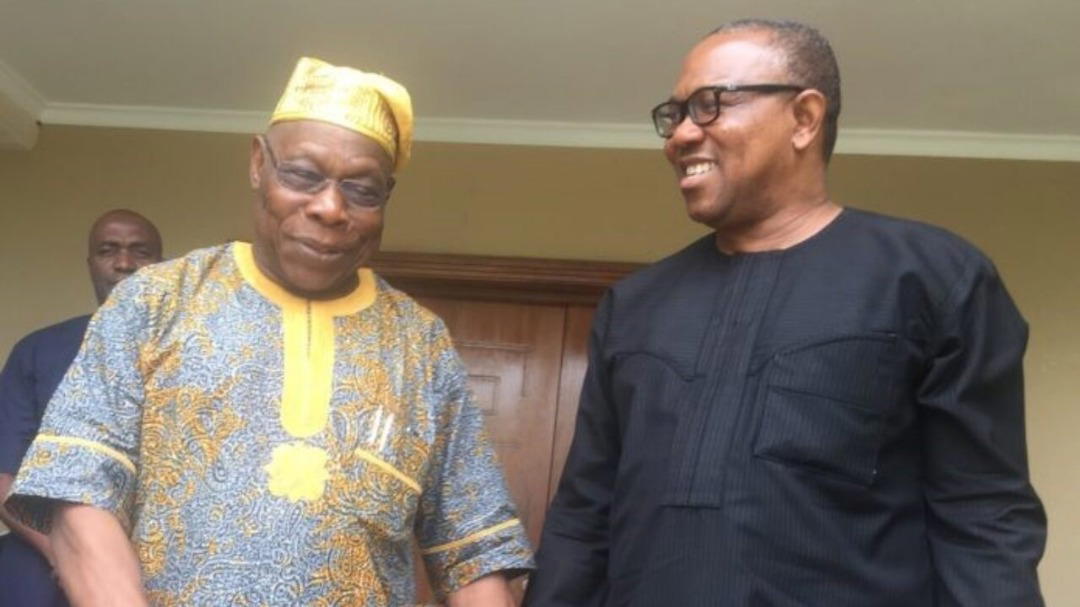 By Chinonso Alozie
The Coalition of South East Youth Leaders, COSEYL, said on Wednesday that the endorsement of the 2023 Labor Party presidential candidate, LP, Peter Obi, by former President Olusegun Obasanjo, among others, indicated an interest in the welfare of Nigerians.
COSEYL's President General Goodluck Ibem stated this to reporters in Owerri as he responded to Obasanjo's endorsement of Obi for the 2023 presidential election.
According to the group, it showed that Obasanjo was against the anomalies in the country caused by poor leadership.
The group said: "The Coalition of South East Youth Leaders, COSEYL, the apex socio-political youth group in the South East geopolitical zone, supports the endorsement of Labor Party presidential candidate Mr Peter Obi by the state executive governor Benue. Dr. Samuel Ortom, Chief Elder Statesman and Former President of Nigeria, Chief Olusegun Obasanjo, Elder Statesman Chief Edwin Clark and other well-meaning Nigerians who have good intentions for the nation.
"The endorsement of Peter Obi by these patriotic Nigerians clearly shows that they mean well for the progress and development of our nation and so they step forward to throw their weight behind Peter Obi, a man who has what it takes to make the nation forward.
"Anyone who is against these men in good conscience is simply telling Nigerians that they are comfortable with the fuel being sold at N600 a litre, the exchange rate of N720 to $1, insecurity and killings by terrorists and other social vices who have taken over the entire nation.
"A blind man can see and feel the level of decadence in our society today and those who mean well for our nation know full well that it is Mr. Peter Obi who has what it takes to pull the nation out of the current quagmire.
"We commend the boldness of Governor Samuel Ortom, Chief Olusegun Obasanjo and Chief Edwin Clark to speak to the minds of Nigerians who are unable to do so. Nigerians are proud to identify them and are very happy with them because of their desire for a better nation that we can call our own.
"It is very unfortunate that the spokesperson for the President Garba Shehu will butt his mouth against an elder statesman like Chief Obasanjo, who spoke the opinion of the majority of Nigerians."
"Grab a Shehu has always been on the anti-people side and he is always happy when Nigerians suffer pain and hardship. Anyone who speaks out against the injustice done to Nigerians is an enemy of Shehu."
"When Fulani Jihadists and terrorists descended on Benue people and killed them daily, Garba Shehu attacked Governor Samuel Ortom for speaking out against the killings of Benue people. He has always been on the unpopular side and we are not surprised by his attack on Chief Obasanjo, who is widely respected nationally and internationally.
"Governor Ortom, Chief Obasanjo and Chief Clark are heroes of our democracy and we are very happy to identify with them for telling the truth. Therefore, we call on our Elder Statesman Chief Obasanjo to ignore Garba Shehu's diatribes and focus on his God-given duties to help make our nation great again," COSEYL said.
The post Approval of Obi: Obasanjo Interested in Nigerian Welfare – Igbo Youth appeared first on Vanguard News.