.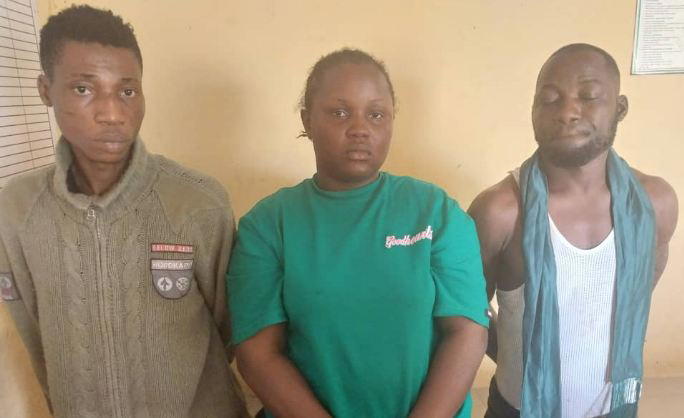 By Evelyn Usman, ASABA
The Delta State Police Command has taken down a kidnapping gang that specializes in luring ladies through Facebook to rape and blackmail them.
Consequently, three suspected members of the syndicate, including a lady, have been arrested.
The syndicate's modus operandi, as gathered, was to get acquainted with unsuspecting ladies on Facebook. They then invited the gullible victims to a hotel where they were allegedly drugged and raped.
If they didn't, they would hold them hostage and demand a ransom from their parents to secure their release.
The bubble burst after one of the ladies (names kept secret) who was kidnapped and released on December 11, 2022 recognized one of the kidnappers on Monday.
She then alerted Ufuoma Division police officers where she revealed that she was held hostage by her captors at a hotel in Iwherekpokpor Community, Ughelli North Local Government Area.
According to her, they took nude pictures of her and videotaped her inserting a candle into her genitals and used the video to blackmail her and her parents into paying a huge ransom.
Edafe said: "Upon receiving this complaint, the DPO immediately notified a combined team of detectives from the Ekiugbo community police and vigilante group who arrested one Cornelius Emene, 32, on January 2, 2023.
"During the preliminary investigation, he made a useful statement that led to the arrest of two other suspects: Nelson Aghogho (alias Little) and Ufuoma Tunde, a woman.
"He also told how they kidnapped another student from School of Health and Technology, Ofuoma, Ughelli North Local Government Area.
"The suspects' phones contained numerous sex video recordings of their previous victims, which were also used to blackmail them and their parents. The three suspects are currently in custody and the investigation is still ongoing."
The post Facebook Scammers Arrested For Multiple Kidnapping, Gang Rape appeared first on Vanguard News.