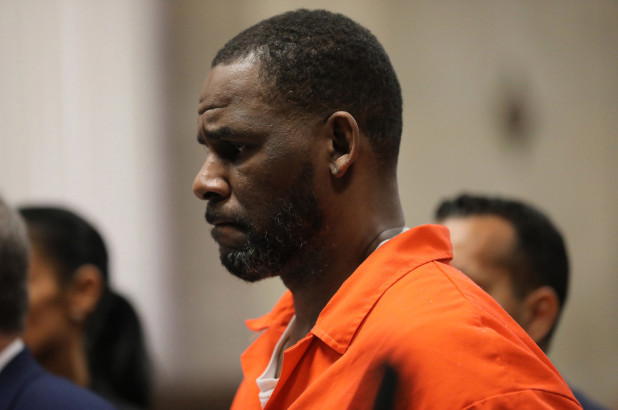 By Biodun Busari
A documentary series about American superstar R. Kelly, 'Surviving R. Kelly: The Final Chapter', has revealed more traumas of his victims.
The Final Chapter premiered Monday and Tuesday nights and explored R. Kelly's abuse of Azriel Clary, who was a witness at his 2021 racketeering and sex trafficking trial, according to HipHopdx.
Clary accused the incarcerated singer in 2020 of forcing her to eat her own feces and said it was a disgusting act he forced on girls as a ritual to prove their loyalty.
Read also:
R. Kelly married, silenced 15-year-old Aaliyah, family with non-disclosure agreement
R. Kelly engaged to alleged victim after being sentenced to 30 years in prison
Chelsea confirm £35m signing of Benoit Badiashil from Monaco
The episodes chronicled the subsequent trials and all the fallout that unfolded against the embattled singer following the first part of the 2019 series premiere allegations.
It also revealed even more disturbing things that R. Kelly was allegedly up to, including physically assaulting his ex-girlfriend Azriel Clary.
"Azriel, she was on the tour bus. They were in the back room. And I heard him beat her — spanking as he calls it," said an unidentified survivor.
"There was another incident where Robert made one of the girls, or a few girls, eat his excrement. That was more of a loyalty ritual when they had to eat the faeces."
The first of the two episodes revealed her testimony, detailing how R. Kelly had told her how to lie during a combative interview with Gayle King.
In addition, the final episodes revealed that there had allegedly been a sex tape with the late Aaliyah, with a survivor describing how she was allegedly assaulted after discovering it.
"I see a basket full of tapes and I'm like, 'Well, maybe I'll just grab one of these tapes and let me go to the other rooms and see if there's a VHS so I can watch a movie,' because I bored," said a woman named Ebonié Doyle. "Then I found out he lied to me about Aaliyah.
"The tape I put in was of him and Aaliyah together. What I saw on that tape was him and Aaliyah being intimate. They were on the tour bus and everything I asked him to do was taped."
R. Kelly was found guilty in New York on nine counts, including racketeering, transporting persons across state lines for illegal sexual activity, coercion and enticement, and transporting a minor. He was sentenced to 30 years.
He then went on trial again in his hometown of Chicago, where he was convicted by a federal jury in September on charges of child pornography.
He continues to face criminal charges in Minnesota, which have largely remained on hold while his federal cases are being heard.
The post R. Kelly's Alleged Force-Feeding Ritual Feces Revealed in Docuseries appeared first on Vanguard News.