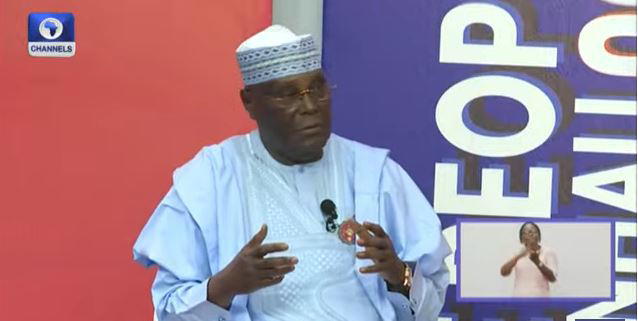 John Alechenu, Abuja
Mr. Phrank Shaibu, Special Assistant, Public Communications to People's Democratic Parry presidential candidate Atiku Abubakar has said that All Progressives Congress presidential candidate Asiwaju Ahmed Tinubu lacks the moral ground to even think of reforming internet fraudsters popularly called Yahoo Guys.
Shaibu said this in a statement late Friday in Abuja. He explained that the APC candidate who pledged to reform Yahoo boys while addressing APC supporters at a rally in Benin on Thursday has yet to come out about his past ties to drug lords in the United States.
He said: "Asiwaju Bola Ahmed Tinubu, produced another comedy skit at the APC Presidenti meeting in Benin City on Thursday when he vowed to 'turn the so-called Yahoo guys in Edo state into' experts in chip manufacturing and making die din dasan dadauga.'
"Had he been addressing a Christian congregation, we could have assumed he was speaking in tongues, but this was a campaign rally where he would have sold his candidacy to the millions of young people suffering from unemployment under the disease called the APC.
"Instead, he chose to call the youths of Edo State Yahoo boys and fraudsters.
"Tinubu's daily blunders are proof that he has no business going to Aso Rock Presidential Villa, but rather needs urgent medical attention."
Atiku's media aide further said, "While giving his uninspired speech, he lashed out at Waziri Atiku Abubakar, insisting that Atiku acted dishonorably by selling vehicles while he was a customs officer.
"Tinubu's frustration is quite understandable considering that in 1989, while Atiku, a federal officer, was serving as deputy director of customs in charge of enforcement and drugs and protecting the country's borders from smugglers and drug dealers, Tinubu was in bed with two notorious drug lords, Muiz Akande and Abiodun Agbele.
"U.S. authorities revealed that Akande took Tinubu to First Heritage Bank, where he opened an account for himself and his wife Oluremi in 1989.
"While opening the account, the godfather of Lagos revealed in documents that he worked with Mobil Nigeria Limited and his salary was $2,400 and he had no other sources of income.
"But records from his First Heritage Bank account showed that he deposited $661,000 into his individual money market account in 1990 and $1,216,500 into the same money market account in 1991.
"In an effort to protect their reputation, Mobil representatives told U.S. authorities that while Tinubu was treasurer, he did not have direct access to the company's funds and thus could not deposit funds on behalf of the company."
Shaibu notes that Tinubu, the man Governor Nyesom Wike and his friends signed up to run for president, has so far been unable to explain how he managed to save more than $1.8 million from his $2,400 monthly salary. Lucky for him, he was able to strike a deal with the US government that forfeited more than $460,000 in cash.
Shaibu said equally: "This is a man whose whole life is built on untruth. He's not even brave enough to reveal the primary and secondary schools he attended for fear of the avalanche of dirt that will be unearthed over his lifetime.
"He has continued to avoid debates so that he is not forced to tell the truth. Yet he has the impudence to question Atiku Abubakar? What a joke."
He pointed out that Atiku Abubakar, on the other hand, has been transparent about his life and business. He's listed all the companies he owns and established himself as arguably the largest private employer of labor in Adamawa State, but Tinubu, who has bullion trucks loaded with cash on his property, has no known source of wealth.
Shaibu invited Nigerians to ask Tinubu where he amassed the vast wealth he has claimed, the kind of wealth that he boasts of being richer than the state of Osun.
He said perhaps the biggest charge against Tinubu is Alpha Beta Consulting, a company that has had exclusive rights since 2002 to generate revenue on behalf of the Lagos government.
Shaibu recalled that a former general manager of the company, Oladapo Apara, said in court filings that Tinubu runs the company by proxy.
Apara claimed that the company generated more than N1.5 trillion ($3.48 billion) for the Lagos government between 2002 and 2018 and received a commission averaging around 10 percent.
Apara told the EFCC in a petition that as head of the company, he started investigating the finances and made many surprising discoveries, such as mysterious transfers of more than N20 billion ($46.5 million) in various currencies to some companies linked to Tinubu.
Before the election, Tinubu made a secret financial settlement with Apara and the case came to a sudden end in court.
The Atiku assistant claimed that "Tinubu should hide his face in shame instead of pontificating about morality.
"How can he even talk about reforming Yahoo guys in Edo State given his dark past with US authorities? He must remove the beam in his eyes before he tries to remove the mote in the eyes of others.
The post Tinubu Needs Help, Lacks Moral Ground To Reform Yahoo Guys – Atiku-Okowa Campaign appeared first on Vanguard News.