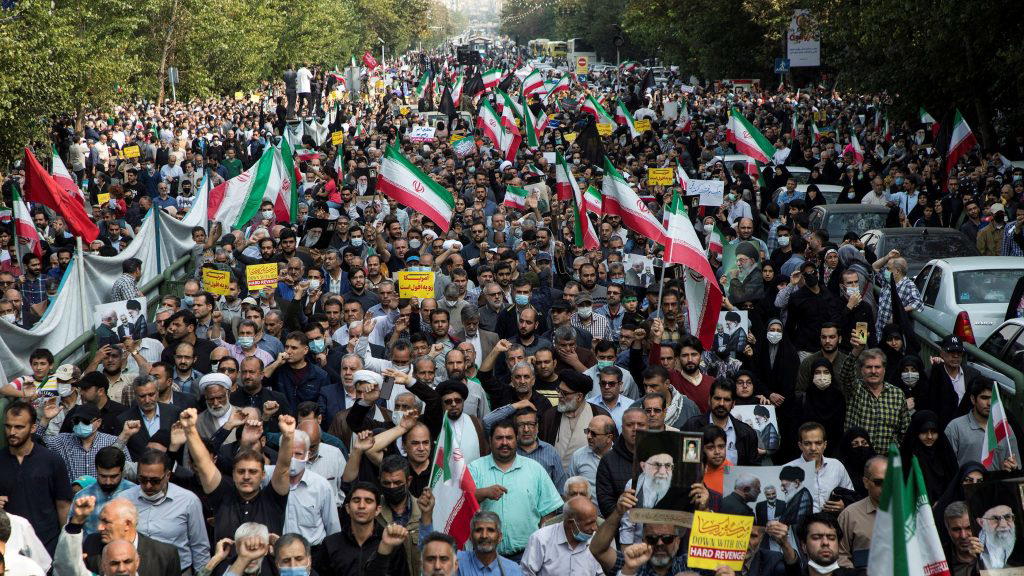 Iran executed two men on Saturday for killing a member of its paramilitary force during unprecedented protests over the death in custody of a young woman.
The latest hangings double the number of executions to four amid nationwide protests, which have escalated since mid-September to calls for an end to Iran's clerical regime.
In December, two men were put to death, sparking global outrage and new Western sanctions against Iran.
Judicial news agency Mizan Online reported that "Mohammad Mehdi Karami and Seyed Mohammad Hosseini, the main perpetrators of the crime that led to the martyrdom of Ruhollah Ajamian, were hanged this morning."
Prosecutors said the 27-year-old militiaman was stripped naked and killed by a group of mourners who had paid tribute to a slain protester, Hadis Najafi.
The executions are in violation of a campaign by international human rights organizations to spare the lives of the two men. Karami's father had also begged the judiciary not to kill his son.
Mahmood Amiry-Moghaddam, director of the Oslo-based group Iran Human Rights (IHR), said both men "were subjected to torture, sentenced after mock trials… without minimum standards of due process."
Like other activists, he called for stronger international action after the latest executions.
On Twitter, Amiry-Moghaddam specifically pushed for "new and tougher sanctions against individuals and entities".
Authorities have arrested thousands of people in the wave of demonstrations that began with the death in custody of 22-year-old Mahsa Amini in September.
The Iranian-Kurdish woman had been arrested by the vice squad for allegedly violating the regime's strict dress code for women.
– Fear of others –
Ajamian belonged to the Basij paramilitary force linked to the powerful Islamic Revolutionary Guard Corps.
He died in Karaj, west of Tehran, on Nov. 3 after being attacked with "knives, stones, fists, kicks" and dragged down a street, a prosecutor's office said at the time.
The first instance court had sentenced Karami and Hosseini to death in early December, Mizan said.
The Supreme Court upheld the verdict on Tuesday.
Karami's parents had released a video in December pleading with the judiciary to spare his life.
"I respectfully ask the judiciary, I beg you, I ask you… to remove the death penalty from my son's case," said Mashallah Karami, who described his son as a former member of the national karate team.
Karami's father told Iranian media that a family lawyer was denied access to his son's file.
Mohamad Aghasi, who wanted the family to deal with the case, wrote on Twitter that Karami had not been allowed a final meeting with his family and had refrained from eating and drinking in protest.
IHR gave Karami's age as 22. Hossein was 39, according to another Norway-based rights group, Hengaw.
They were among 14 people courts have sentenced to death over the unrest, according to an AFP tally based on official information.
Four have now been executed, two others have had their sentences upheld by the Supreme Court, six are awaiting new trials and two others can appeal.
Dozens of other protesters risk the death penalty, IHR said in late December.
British actor of Iranian descent Nazanin Boniadi, an Amnesty International ambassador to the UK, said on Twitter that the "political cost of Iranian executions" must rise.
Foreign nations should withdraw their ambassadors from Iran and call for a moratorium on executions and state violence against peaceful dissent, according to the New York-based Center for Human Rights in Iran.
"We mourn as a nation," prominent US-based dissident Masih Alinejad said in a Twitter post. "Help us save others."
– 'Even more hardliners' –
Nearly four months after the authorities' crackdown on the unrest sparked by Amini's death, Supreme Leader Ayatollah Ali Khamenei appointed a new police chief on Saturday.
General Ahmad-Reza Radan took over from Hossein Ashtari, a statement on the leader's official website said.
Khamenei ordered the police to "improve their capabilities".
Iran expert Mehrzad Boroujerdi said before the announcement that there were "rumors that Khamenei has severely criticized Hossein Ashtari's performance".
Boroujerdi, vice provost and dean of Missouri S&T's College of Arts, Sciences, and Education, told AFP on Wednesday that he expected people like Ashtari to be replaced by "even more hardliners to keep a tight grip on the security forces."
The latest executions were the first linked to the demonstrations in nearly a month.
Iranian officials describe the protests as "riots" and accuse hostile foreign powers and opposition groups of fomenting the unrest.
On Dec. 12, Majidreza Rahnavard, 23, was publicly hanged from a crane after his conviction for killing two members of the security forces, Mizan reported.
Rahnavard's execution came four days after Mohsen Shekari, also 23, was put to death in connection with the wounding of a member of the security forces.
The message Iran executes two more men in connection with protests appeared first on Vanguard News.