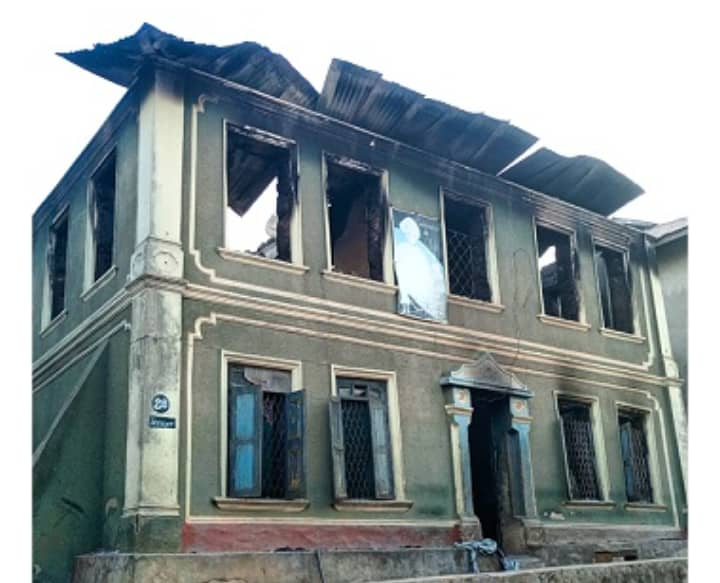 By Dayo Johnson, Akure
A 50-year-old man, Ogundeji Ojo, committed suicide by setting fire to his father's house, in the Odojomu area, Ondo town, Ondo state.
Vanguard understood that the victim said he was tired of living and that his mates usually made fun of him that he still had to save his life at his age.
Ojo allegedly locked himself in a room in the house and set it on fire.
Neighbors are said to have rushed him to the hospital, where he later died.
The entire building was reportedly razed to the ground before the state fire men arrived.
Speaking to journalists, an eyewitness, Ms. Sabaina Ogundeji said that the victim started a fire under the stairs of the house earlier that same day, but was scared off by some neighbours.
In the evening everyone was outside, when Ogundeji went in and took out his clothes and set them on fire. He later went in and locked himself in the room and set it on fire.
"It was his voice that we heard when he screamed. People ran there to force the door and bring him out. But later he died in hospital."
Another neighbor said, "When we rescued Ogundeji, he wasn't dead yet. He told us that he set the house on fire because some people made fun of him for his problem.
State police image maker Funmi Odunlami could not be reached for comment, but police officers from the Enu-Owa Division said a man in Odojomu came to report the incident.
They added that his remains have been deposited in the morgue at the state hospital in the city of Ondo
The post I'm tired of life says son who sets fire to father's house commits suicide in Ondo appeared first on Vanguard News.